Access to the Internet plays a big role in our lives – and the E-rate program is instrumental in bringing the Internet to almost every student and library patron in America. Last year, the E-rate program helped connect 53.6 million students to the Internet. The program provides discounts for Wi-Fi connections and high-speed data lines to 120,000 school buildings and to over 4,000 library systems nationwide. It serves communities in virtually every zip code in the United States.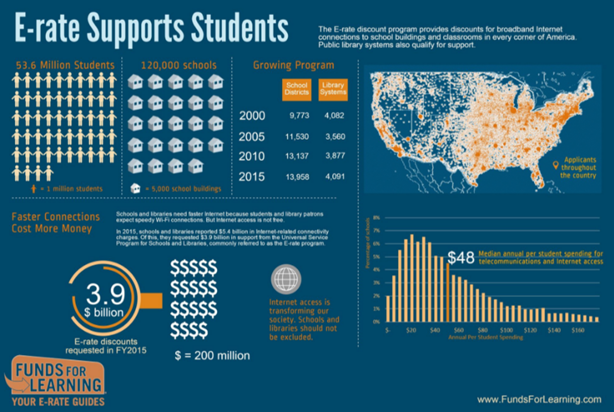 This year the program is better positioned than ever with a record $5.8 billion in potential discounts. This opportunity exists because of the FCC's E-rate Modernization efforts, a.k.a. E-rate 2.0. The transition to the so-called E-rate 2.0 has been a challenge for USAC, the fund administrator. Federal programs do not just dramatically shift course and revamp themselves overnight without anyone noticing. These are moving programs, with lots of interlocking parts. All of the changes and all of the improvements happen in real time without the luxury of putting everything on hold. To make things even more exciting, every adjustment has at least 2 or 3 unintended consequences, along with a few unexpected second and third-order interactions sprinkled in downstream just to keep things interesting. You may have seen some of the articles about frustrations with EPC, and that groups, and even individual schools, have asked for more time to submit their paperwork. (That is the reason USAC today announced the changes to this year's Form 471 filing deadline.)
Newsflash: the E-rate program is helping get Internet into our communities… The program is changing… There is more money and the program administrator is working through growing pains… Duh! If you are a frequent visitor to the Funds For Learning web site, or if you know almost anything about the E-rate program, then none of this is a surprise to you. Why, then, am I writing this? I will tell you.
Although you may understand the circumstance, you may not know or fully comprehend the extraordinary efforts taking place behind the scenes to help the E-rate program succeed in its mission.
The FCC has not forgotten us. Chairman Wheeler, Commissioner Rosenworcel, other Commissioners and a dedicated team of FCC professionals have kept their eye on the program and they continue to dedicate time and resources to making the program all that it can be. Reform was not a "one and done" event.
USAC is working hard to fix EPC. The leadership at USAC is calling it like it is, and they are quick to tell anyone that they would go back and do things differently if they could. But they can't, so they are focused on making it better now. I appreciate the candor and the resolve.
Consultants are providing feedback and insights. I have never been more proud to serve schools and libraries as a consultant. Applicants can really use the help. But, on top of that, I have never been more proud of the E-rate consultant community. Everyone is leaning in, pressing forward and doing what they can to help. For example, did you know that each week USAC has been having calls with E-rate consultants to get their feedback and suggestions and to learn what else can be done? Kudos to USAC, and kudos to the consultants. These are best practices in action.
I am encouraged. I am encouraged that the E-rate program exists to help schools and libraries get the Internet connections and capacity that they need; I am encouraged that there is funding available to help students and library patrons get online; and I am encouraged that E-rate program stakeholders at all levels are engaged and working to make this program the best it can be. I believe that the current struggles associated with the transition to the new EPC system will fade over time. The bugs will get worked out, or a new system will be installed… or whatever is necessary. USAC, with the support of the FCC and the applicant community, will move the program forward.
#####
There are 53.6 million students benefitting from the E-rate program. The current difficulties completing the FY2016 filing window will soon be a fleeting memory, but the impact that Internet access will have in our communities, which is the real legacy of the E-rate program, will remain for generations to come.