On July 20, 2016, six major telecommunications companies sent a letter to the USAC and the FCC expressing their concerns regarding the functioning of the SLD's E-rate Productivity Center (EPC). They described how the system's shortcomings are inhibiting their ability to provide accurate and timely E-rate discounts. The letter makes clear that the telecommunications companies will not be able to provide schools and libraries with E-rate discounts until USAC has fixed several aspects of the EPC system.
The telecommunications companies that specifically signed onto the correspondence are AT&T, CenturyLink, Frontier, Sprint, Verizon and Windstream.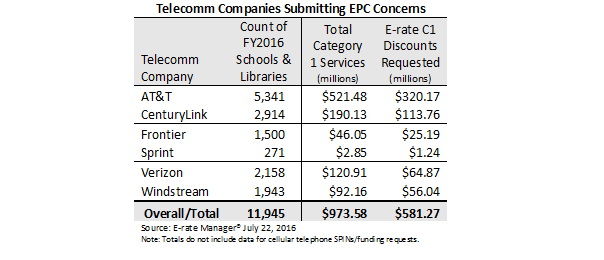 Together, the six companies serve 11,945 E-rate applicants with Category 1 FY2016 funding requests totaling $581 million. In their letter, the telecommunications companies requested the following of USAC:
Immediate resolution of vendor-related limitations within EPC
Publication of final formats for all FY2016 form notification files
Implementation of systematic testing procedures prior to the release of new forms and files
Suspension of additional funding waves until EPC issues are fixed
Posting EPC issue logs on the USAC website for stakeholders to view publically, without having to search USAC News Briefs
Instituting protocols requiring engagement with stakeholders at least one year in advance of USAC I.T. projects
Formation of an industry working group to identify and resolve technical and process challenges associated with EPC
The letter to USAC can be viewed here.