As we approach the mid-point of January, many in the E-rate community are consumed with a simple question: When is the Form 471 filing window?

Knowing when an application can be submitted is very important. The timing of procurements, the awarding of contracts, and the planning of work to data enter and submit applications all hinge on the filing window dates; and, because most E-rate coordinators have other responsibilities (i.e. classroom teacher, technology coordinators, etc.), the timing of the filing window can have a huge impact on other work within an organization. The last week of school won't move for the filing window!

In the past, the Form 471 filing window has opened as early as November 4 (FY2003) and as late as February 3 (FY2016). On average, the window has opened on December 11 and closed on March 9; however, in recent years the trend has been to open the window in the first half of January and close it in mid-to-late March. We know from the
Trends Report
that 63% of applicants would prefer that the filing window close in March or April. Unfortunately, that timeframe looks increasingly unlikely.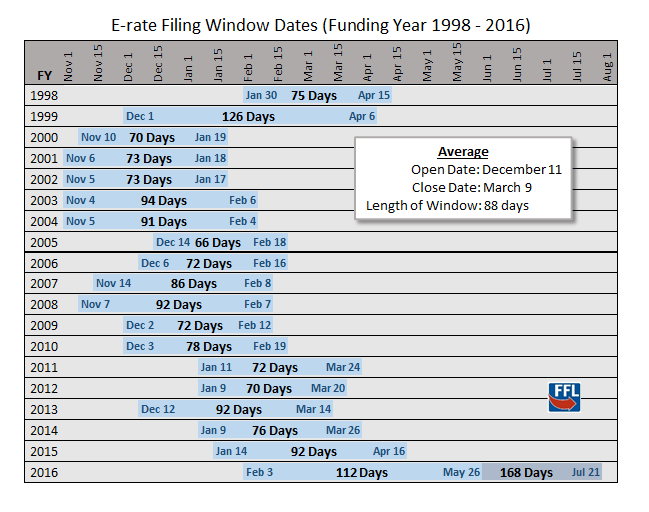 The EPC online portal system has caused applicants to wait an extra-long time to receive their FY2016 funding commitments. This delay now is spilling into 2017, limiting applicants from preparing their online applications and hindering USAC's ability to open the filing window.

E-rate funding plays an absolutely critical role in supporting Internet access in schools and libraries. The program's deadlines should not be developed on the fly or reported on an ad hoc basis. Applicants require (and certainly deserve) to know the due date to which they will be held accountable. If EPC is not up to the task, then applicants should be given the option of submitting paper forms, or
e-filing
their applications.
The filing window dates need to be set. Applicants, and other stakeholders, need to know.