Many applicants are still waiting to receive their FY2016 funding commitments. Meanwhile, all applicants are encouraged to prepare for FY2017.

FY2016 Applications
FY2016 funding commitments have reached $1.9 billion, with a balance of $1.3 billion in funding requests yet to be processed. We estimate that 62% of the total FY2016 funds have been awarded. (This estimate assumes the ratio of funds requested-to-funds committed in FY2016 will be the same as FY2015.)

Over the past ten funding years, an average of 72% of funds have been awarded by the end of January. FY2016 is well below average, and it stands far below the commitment rates of the past three years. For example, in Funding year 2015, 88% of funds had been awarded by the end of January.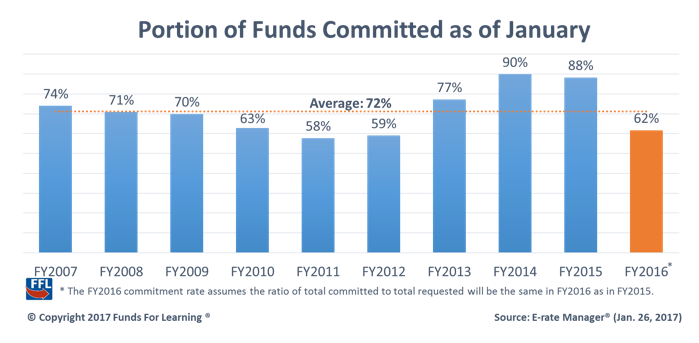 The reason for the lower commitment rate is USAC's "E-rate Productivity Center", or EPC. Funding year 2016 is the first year in which USAC has used EPC to process applications, and the system has made the E-rate more burdensome and much slower for many applicants.

FY2017 Preparations
Although the specifics of the FY2017 filing window are yet-to-be determined, there still are many things applicants can do to get themselves ready:
Prepare site spreadsheet. Schools and libraries will have a designated timeframe during which they will update the individual site information stored in the EPC system. This "administrative window" will open soon, but applicants do not need to wait to start their planning. Create and update a spreadsheet of your sites now. Finalize all of the information that you want to see in EPC, and then, when the time comes, you will be ready to move quickly.

Receive bids. Now is the time to post Form 470s and release requests for bids. The delay in opening the Form 471 filing window gives applicants extra time to seek out proposals and negotiate contracts. If you have eligible goods or services that could potentially be delivered between July 1, 2017 and September 30, 2018, this filing window is your chance – and you still have time.

Redo bids. Sometimes, during the course of a competitive bidding cycle, it becomes apparent that the RFP process needs to be reset. If this occurs too close to the Form 471 filing deadline, applicants lose the opportunity to submit funding requests for those goods and services. Because the close of the Form 471 filing window is still a few months away, your organization may have time to post a new Form 470 and rebid a contract. Take advantage of the extra time if you need it.

Plan funding requests. Applicants do not need to wait for EPC in order to plan funding requests. The FY2017 Form 471 application will be very similar to FY2016. Therefore, a proactive school or library can start now mapping out their FRNs and detail lines. A simple spreadsheet, or a more sophisticated tool like E-rate Manager, can help you. No matter how you go about doing it, do not hold off planning because of USAC. Layout the framework of your application now.