The number of funding year 2018 Form 471s submitted to-date during the filing window is both leading and lagging last year's pace, depending upon how you look at the situation.
LEADING
As of March 1, there have been 9,192 Form 471 applications submitted. This is ahead of FY2017, FY2016 and FY2015 on the same date.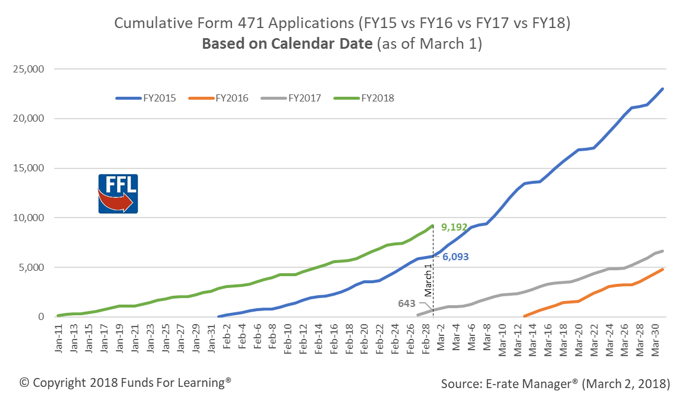 If the filing window were closing in May, as it has the past several years, this would be an encouraging sign. Many applicants simply do not begin to consider earnestly their E-rate application until early January. By this standard, applicants should be applauded for the fact that so many Form 471 applications have already been prepared and submitted. They are leading the pace ahead of all recent years.
LAGGING
With 21 days remaining in the filing window, there have been 9,192 Form 471 applications submitted. This is less than half the number submitted in FY2015 and FY2016 at the same point; and about one-third less than last year.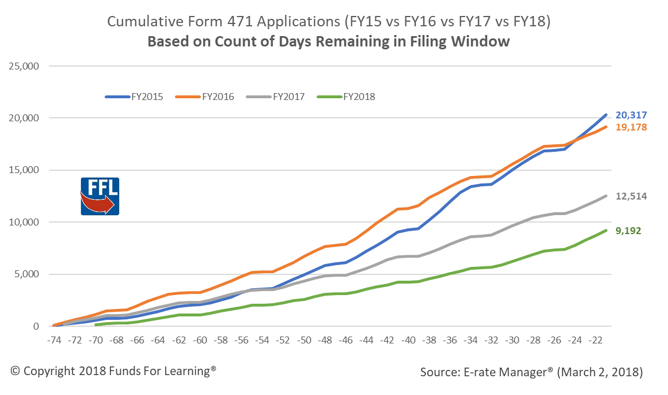 Around 40,000 Form 471 applications are expected to be submitted in FY2018. The following table shows the count of forms filed by the deadline in each of the past three funding years.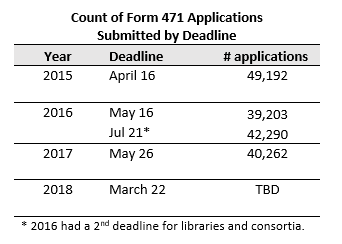 In most years, about 50% of applications are submitted in the last two weeks of the Form 471 filing window. In fact, in FY2017, 59% of the applications were submitted in the final two weeks of the filing window.

Applicants who have passed the 28-day competitive bidding period are encouraged to submit their applications and not wait until the end of the filing window.