As we wait for the funding year 2018 filing window to close March 22, it is informative to look back at funding year 2017 to examine who requested what and how much. This will provide a good basis for comparison after the 2018 applications are submitted.
***
In funding year 2017, $2.34 billion, or 78% of the funds requested, were associated directly with public schools. Another 14% of requests came from consortium applications that primarily represent public schools. The remaining funding requests came from libraries (3%), private schools (2%) and charter schools (2%) who file independently from a school district. The chart below illustrates the relative demand by applicant type and service category. One-third of demand in FY2017 was for Category 2, on-premise goods and services.
***
The overall average funding requested in 2017 per site was $22,511. This includes both Category 1 and Category 2 funding requests. The table below breaks down demand by applicant type, the total dollars requested, the number of sites served, and the average funding request per site that is designated to receive a service.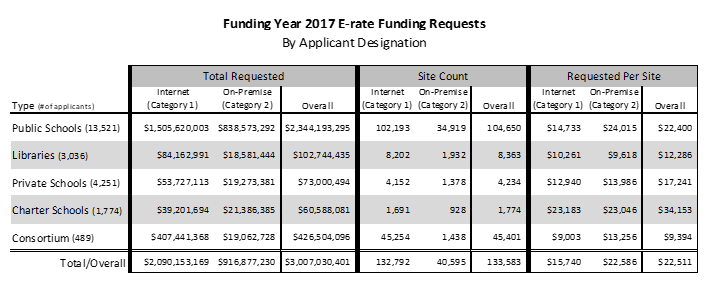 NOTE: this analysis is based on Funds For Learning's proprietary analysis of the demand for E-rate funds in 2017.