There are an estimated 115,243 school and library sites that qualify for Category 2 ("C2") E-rate discounts. A review of the C2 funding applications dating back to funding year 2015 shows that 80% of sites are on-track to receive some level of C2 support by the end of funding year 2018. The remaining 20% of sites have yet to apply.
Funds For Learning is currently conducting a nationwide survey of applicants, asking for feedback on the E-rate program including the C2 budget system. Schools and libraries are encouraged to take the survey here. The results will be submitted to the FCC.
###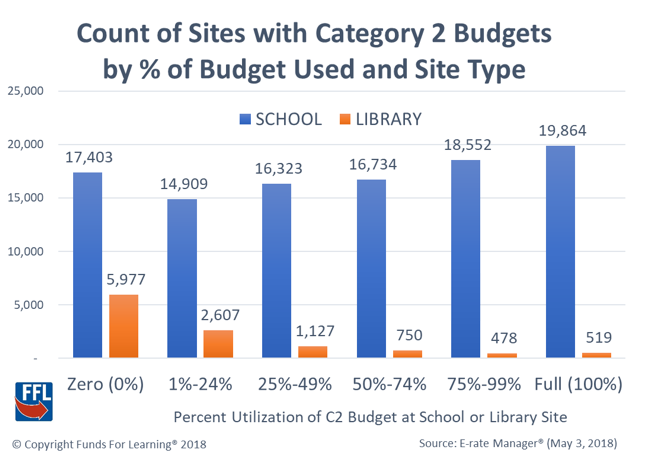 19,864 school and 519 library sites have fully utilized their C2 budgets. Another 18,552 schools and 478 schools have used most of their C2 budget (i.e. 75%-99%). Together, these sites make up 34% of all eligible locations. At the other end of the spectrum, there are 17,403 schools and 5,977 library sites that have not used any C2 discounts. This represents 17% of school sites and 52% of library sites.
###
UTILIZED C2 DISCOUNTS
It is estimated that $3.3 billion in C2 funds will have been disbursed by the end of funding year 2018. About a third of these funds ($1.177 billion) are associated with sites that have fully utilized their C2 budget.
REMAINING C2 DISCOUNTS
There is an estimated $2.8 billion in C2 funds that could be requested in FY2019. When looking at sites that have not utilized any funds, there is the potential for up to $665.2 million in discounts. Another $902.2 million in potential discounts is available at sites that have very little utilization of their C2 budgets (i.e. 1%-25%).
Watch Funds For Learning's webinar "E-rate 2018 Demand: Insights and Analysis" to learn more about the 2018 funding year and trends in the demand for E-rate discounts.
###
About our methodology. The C2 dollar estimates and site utilization are based on disbursed funds (FY2015), committed funds (FY2016, FY2017, FY2018) and pending funds (FY2016, FY2017, FY2018). For funding requests that impact multiple sites, the funds have been allocated using a straight-line method. For example, if there are 5 sites and $500 has been disbursed, $100 in C2 funds (i.e. $500 divided by 5 sites) would be allocated to each site to calculate its total C2 budget utilization. Site budgets have been estimated based on the most accurate enrollment and square footage data. In some cases, these numbers have been adjusted to account for obvious errors. (For example, in FY2018 there is an elementary school with a reported enrollment of 702,794 students. In this case, and others, the enrollment data has been adjusted and the school district overall C2 discount rate recalculated.)