Applicants are entering the final phase of the funding year 2019 E-rate filing window. The deadline has now passed to start the competitive bidding ("Form 470") process and still meet the March 27, 2019, funding request ("Form 471") deadline. Reviewing the Form 470 filings, there are two trends that stand out: (1) the potential for a spike in C2 funding applications, and (2) the risk of denials faced by many applicants who misunderstood the FCC Form 470 service descriptions.
CATEGORY 2 DEMAND IS UP
The chart below shows the number of applicants who submitted Form 470s each year since funding year 2014, the last year before E-rate Reform. There has been a steady decline in the overall number of participants in the program. This drop aligns with the phase-out of voice telephone service, previously the most widely utilized E-rate support.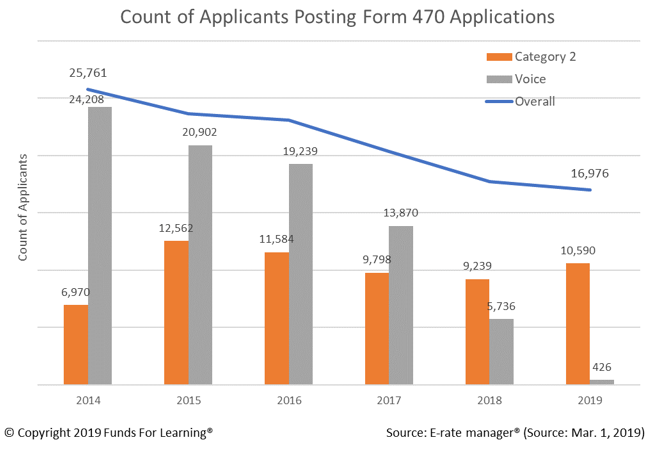 The most remarkable aspect of this chart is the number of Category 2 RFPs in 2019. The count surged in 2015 because of E-rate Reform, but then lowly tapered off for three years in a row; however, for funding year 2019, the number of C2 Forms is up 15% over the previous year. This may foreshadow an increase in the overall number of Category 2 funding requests in funding year 2019; which further underscores the importance of Category 2 discounts
in the future
.
NOTE: Funds For Learning estimates that 426 applicants still managed to post a Form 470 for voice telephone service in 2019. Several hundred "Internet" Form 470s have a description indicating that they are instead seeking telephone service.

INTERNET ONLY – NO TRANSPORT
From the beginning of the E-rate program, applicants have been required to notify potential vendors of their intent to purchase goods and services. For most of the program's history, applicants could describe their needs using their own terms and descriptions. However, since the reform of the program, the FCC has required applicants to describe their technology needs using pre-defined "drop-down" menus – and then penalizing applicants who do not pick the correct menu item as defined by the FCC. This has lead to many
challenges
for applicants, USAC, and the FCC.
Unfortunately, it appears that a significant percentage of applicants may once again be tagged for not using the FCC's drop-down menus correctly. Reviewing the funding year 2019 Form 470s, a disproportionate number were filed for Internet service that does not include broadband connectivity.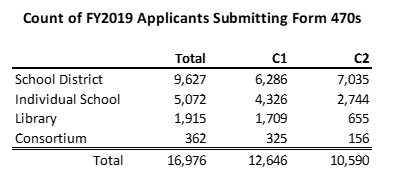 The vast majority of applicants who request Internet access require a related connection to the Internet from their school or library. Of the 2019 Form 470s, there were 12,646 applicants who posted forms for Category 1 services. An astounding 8.5% of them, 1,073 applicants, posted 470s only requesting Internet access without transport services and did not post any other type of C1 request. To put this in context, in 2018, only 1.7% of C1 applicants had funding commitments that did not include some type of transport service in addition to Internet access.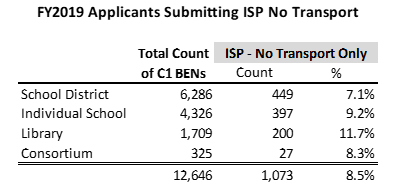 Either there has been a significant increase in the percentage of applicants who do not require transport services; or, a significant percentage of applicants have improperly described their broadband needs according to the FCC regulations.
A list of the Form 470s in question is available for download here.