More than 5,500 appeals have been submitted via EPC since January 1, 2018. 96% of those appeals have been processed by USAC. Still, there are more than 300 appeals currently pending that were submitted in calendar year 2018 or 2019.
Frustrating many applicants, the percentage of appeals processed by USAC within 30 days declined during the first 3 quarters of 2019. At this week's Schools & Library Committee meeting, USAC acknowledged that the processing time for appeals had increased and indicated that efforts were underway to speed up the process. The last three months of calendar year 2019 support this claim: the percentage of appeals processed within 30 days increased to 48.6% in the last quarter after hovering around 11% in the previous two quarters.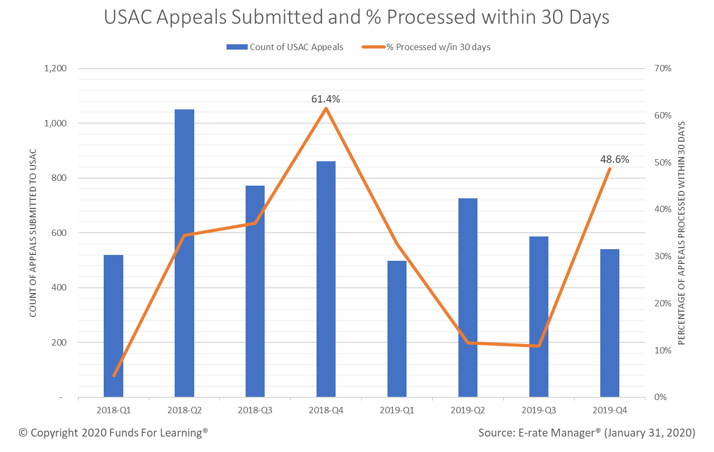 A shorter processing time for appeals is important because it allows applicants the opportunity to move forward with their plans sooner, rather than later. But fast appeal decisions are only piece of the puzzle. The ideal solution is not a fast decision; instead, most applicants would prefer not to have to submit an appeal at all. On this front, it appears that progress is being made, as well. There was a 27% reduction in the count of appeals submitted to USAC via EPC in calendar year 2019 versus 2018.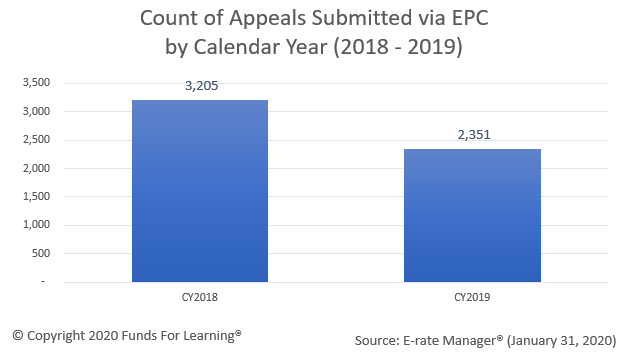 Applicants deserve timely and accurate funding commitment decisions, and, when mistakes are made, they deserve the opportunity for a speedy resolution to the situation.
***