The deadline to submit new E-rate funding applications is March 25, 2020, and all Form 470/RFPs should be posted for contracts that will be awarded by that date.
The count of Form 470 competitive bidding requests for internet access and off-campus data connections (a.k.a. Category One goods and services) was a moderate 12,553. This is about average for the past five years, and reflects that fact that many applicants are in the midst of multi-year service agreements.
The count of Form 470 competitive bidding requests for Wi-Fi networks (a.k.a. Category Two goods and services) was a record-high 14,598. This is the largest count of Category Two Form 470s ever submitted, and the first time since 2017 that the count of Category Two Form 470s is higher than the count of Category One Form 470s.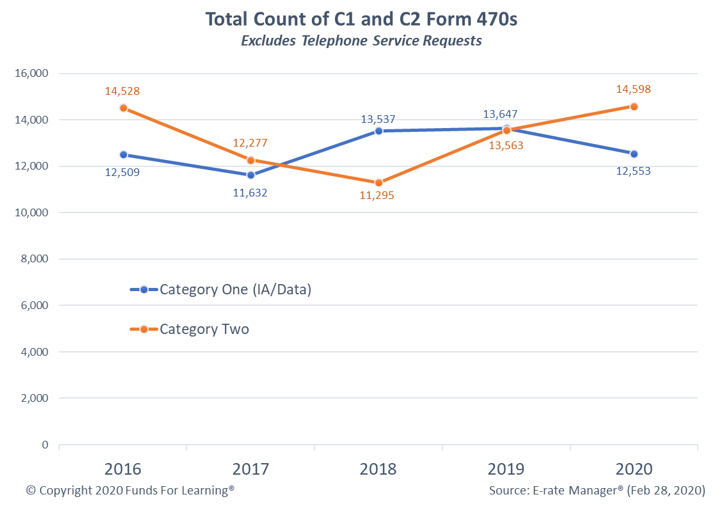 Note that the count of Category One Form 470s shown here excludes requests for proposals for telephone service. Support for these services was phased out of the E-rate program beginning in funding year 2015.
Preparing Funding Applications
As the Form 471 filing window draws to its close on March 25, 2020, applicants are encouraged to take the following steps:
Submit funding requests for contracts that have already been awarded. March 25 is only a deadline. Applications can and should be submitted earlier for service agreements that have already completed the bidding process and mandatory 28-day waiting period. For example, a multi-year Internet access agreement awarded in a prior year could be submitted. USAC allows applicants to submit multiple funding requests on multiple Form 471 applications.
Confirm sites, scope of services, and service details. The EPC application portal requires specific descriptions of the goods and services for which discounts are requested. Plan ahead by cataloging the specific sites that will receive service. Be ready to identify the specific speeds and types of connections being used, as well as the make, model and quantity of all equipment.
Cost Allocations. If equipment includes an ineligible function, or if an ineligible site is receiving service, FCC rules require that the price to serve those ineligible items must be cost-allocated prior to the discount funding request calculation. Familiarize yourself with what is being purchased and where it is being delivered. In some cases, an applicant may need to request cost allocation information from the service provider with whom they have contracted, or the manufacturer from whom they are receiving equipment.