On March 13, 2020, the Federal Communications Commission directed USAC to extend the Funding Year 2020 Form 471 application filing window through 11:59pm Eastern time on April 29, 2020. The announcement comes in response to the nationwide COVID-19 pandemic, with many schools and libraries across the country closing temporarily, extending Spring Breaks, or moving to virtual instruction.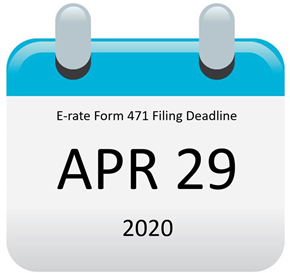 In its Public Notice, the FCC also directs USAC to "provide all applicants with an automatic, 14-day extension for PIA requests" and notes that they will "continue to monitor the situation to determine whether any additional extensions of these deadlines are needed."
The extension of the application deadline means that Forms 470 filed on or before April 1, 2020 will be within program's 28 day competitive bidding requirement. Funding Year 2020's filing window extension is the first since FY2016 and the eighth in program history.
The FCC's Public Notice announcing the extension may be found
here
.