The 2022 E-rate filing window closed March 22. Based on preliminary data, there were 20,927 applicants who submitted funding requests for 131,716 school and library sites across the United States and its territories. The initial demand totaled $3.16 billion. This is the highest overall demand in five years, driven by the need for additional on-campus Wi-Fi and computer networking, referred to as "Category 2" support. The demand for Category 2 funding has doubled in the past five years. This growth is attributed to the increasing need for Wi-Fi, due to the rapid deployment of student laptops over the past two year, as well as improvements to the Category 2 budget system.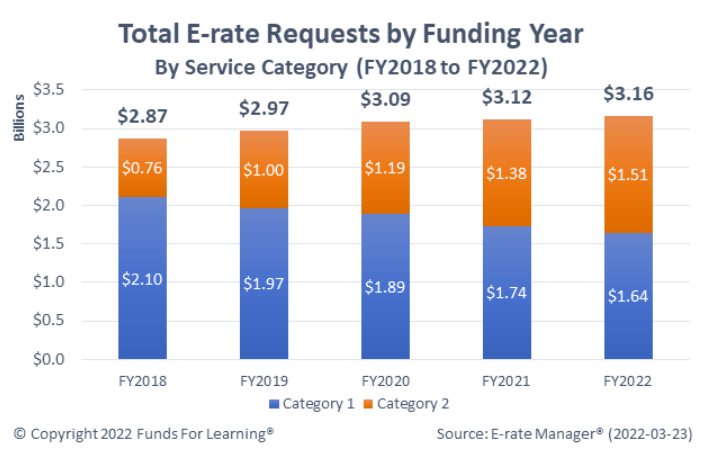 Category 1 refers to internet access and data connections. In contrast to Category 2, the funding requested for Category 1 services declined in 2022. This is because of an overall drop in the price per megabit for internet connectivity. This is the sixth year in a row that the funding requested for Category 1 services has declined. This is despite an increase in the number of sites receiving support and higher speeds of internet connections. Robust competition is a primary factor in the lower pricing for internet bandwidth. 
USAC has submitted a summary of the initial 2022 demand to the FCC. It is available here. 
Please join Funds For Learning on April 14, 2022, for a recap of the FY2022 E-rate filing window demand. Register now.