I'm not sure about y'all, but here in Oklahoma it feels like summer has already begun: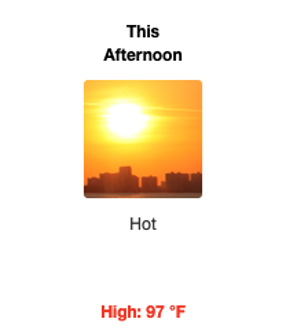 With the official start of summer next week – and the end of Funding Year 2021 just two weeks away – here are a few tips to review before heading off to the beach, the mountains, or the couch for the summer:
Wrap up invoicing for FY2021
The service delivery deadline for all recurring services in FY2021 is June 30, 2022.  This means that the BEAR/SPI invoice deadline for those services will be 120 days later (October 28, 2022.)  But it's always best not to wait until the last minute! Receipt of your June bill for recurring services is a good reminder to make sure that you have invoiced USAC for all recurring services received during FY2021 – it's easy to forget once school starts back up in the fall!
Check the status of fiber projects
For self-provisioned fiber projects, June 30, 2022 is the date by which the fiber must be lit and operational in order for the construction charges to qualify for discounts via a FY2021 funding request.  Many projects have been unavoidably delayed due to supply chain issues stemming from the COVID pandemic, so if you have a fiber project that needs an extension be sure to file your FCC Form 500 by the June 30 deadline.
Share your feedback with the FCC
All E-rate applicants should take a moment to share their thoughts on the importance, efficiency, and effectiveness of the E-rate program by participating in our annual applicant survey.  Just a few moments of your time can make a tremendous impact on the future of the E-rate program as we share the results with the Federal Communications Commission.  From network security to competitive bidding rules, your voice helps ensure that FCC clearly understands the impact their decisions make on E-rate program participants.