In the spring of 2022, Funds For Learning conducted its twelfth annual E-rate applicant survey.  First conducted in 2000, the survey gives applicants of all types and sizes an opportunity to share their experiences with the E-rate program, from its rules and processes to its failures and successes.  And while we are putting the finishing touches on this year's survey results for our annual Trends Report, a sneak peek at the data shows that applicants overwhelmingly believe that the state of the E-rate program is strong.
In the 2022 survey, 94% of applicants stated that the E-rate program is vital to helping achieve their internet connectivity goals:
Nearly 70% of applicants also report that the program's competitive bidding requirements result in lower pricing for eligible services: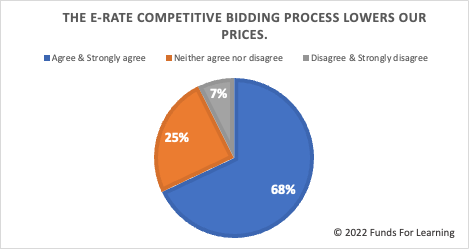 Applicants' anecdotal experience shared in the 2022 survey aligns with the data available in Connect K-12, an online resource for schools providing speed and cost data for Internet connections nationwide.  In 2021, Connect K-12 reported that the cost per megabit for school internet access dropped from $4.80 per megabit in 2017 to $1.39 per megabit in 2021.
To learn more about the results of Funds For Learning's 2022 applicant survey, you may register for our complimentary Trends Report webinar on September 14 by clicking here.