As E-rate applicants, service providers, and industry experts continue to debate the benefits and challenges of adding next-generation firewalls and other cybersecurity products and services to the E-rate program's Eligible Services List, it is important to consider the impact an expansion of eligible services would have on demand for program funds. Presuming that next-gen firewalls would be funded as a Category Two purchase, the program's current C2 budget cap system imposes a predictable limit on a potential increase in demand for funds.
Currently, the FCC has committed to C2 budget caps that total $1,476,668,599 per year for the period FY2021 – FY2025. If all applicants nationwide were on pace to utilize 100% of their C2 budgets, we would expect to see an average of $1.477 billion requested each year. Instead, we have seen an average of $1.357 billion requested each year. This leaves an average "surplus" of unused C2 budgets of $0.12 billion per year.

If the full cost of firewalls were to be added to the C2 Eligible Services List, the E-rate program would ultimately see – at best – an average uptick in demand of $120M annually: the amount of unused funding that might be requested due to the addition of new eligible services.
That said, a full $120M annual increase is unlikely because we know that not all applicants utilize their C2 budgets. For example, the average annual C2 budget for libraries is $116.4M; however, in the past two years, libraries have only requested an average of $20.5M in C2 discounts, a pattern we do not expect to change dramatically. Based on this data, Funds For Learning estimates that the real-world increase in C2 funding requests due to the addition of firewalls and other security services is unlikely to be more than $60 million per year.
Another predictor of potential increase in demand is the total ineligible C2 funding over the past five years. The average annual total funding requested for "basic" firewalls in the past five years is $23.3M. The ineligible portion listed on the application by the applicants averages a total of $3.9M per year.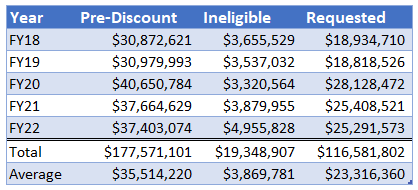 We know that most of the ineligible charges "carved out" of current C2 firewall purchases are for software and licensing which enable "next generation" firewall features.  Based on historical funding request data, we can estimate that simply updating the program's definition of firewall to be consistent with 2022 marketplace and network design standards could result in an increase in demand for funding as little as $4 million per year.