Schools and libraries are fighting to protect themselves from cyberwarfare. There are attacks daily that threaten their computer networks, either shutting them down for ransom, or leveraging the networks to launch more attacks. The Federal Communications Commission (FCC) E-rate funding program currently supports computer networks, but explicitly limits aid for network protection. The safety and reliability of student information and access to the internet should not be limited by outdated regulations.
Any additional support the FCC could provide would help guard students, families, staff, and library patrons – and immediate action can be taken. Funds For Learning and other groups have called on the FCC to support safe and reliable computer networks by fully supporting network firewalls.
One common question about this support is the potential impact to the Universal Service Fund (USF), the source of E-rate discounts. Would full support of firewalls for schools and libraries dramatically increase the USF contribution factor? Based on an analysis by Funds For Learning, the answer is no. Allowing firewalls to be funded in full would impact the USF contribution factor by no more than half of a percentage point, and, most likely, even less than that.
The table below shows the quarterly USF Contribution Factor for 2022 and the first quarter of 2023.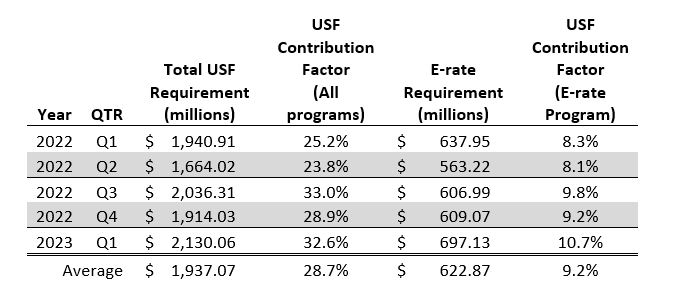 The E-rate program currently averages a quarterly demand of $622.87 million which equates to a USF contribution factor of 9.2%. In other words, the E-rate program accounts for about one-third of the quarterly overall USF contribution factor.
Assuming that annual demand for Category Two support were to increase by $60 million-to-$120 million because of firewalls, and based on the current USF contribution rates, it is estimated that the USF average contribution factor of 28.7% would increase by 0.23% or 0.46%, respectively. Below is a table summarizing the estimated impact.