****
Disclosure Statement: Funds For Learning is the consultant listed on the State of Arkansas's FY2015 E-rate applications.
****
Living in a big football state such as Oklahoma, everyone knows (fan or not) that on game day there are certain roads to avoid, a few hours prior to kickoff, as well as after the game. As for those die-hard fans attending and/or tailgating at the game, they have come to expect spending some quality time in the car, likely on the main highway (I-35), due to the high volume of traffic at that time. Though resources are continually dedicated to improving, or upgrading I-35 (adding lanes, improving interchanges, etc.), during these peak times the highway doesn't allow for sufficient capacity to support the influx of traffic on game day. To counter this problem, the city dedicates resources to provide an alternative, or additional path. By providing a designated additional route for traffic, it helps prevent major traffic jams, and allows traffic to flow more freely. Both the main highway and the additional route are critical to getting fans and others to their destinations.
If you haven't already figured out where I'm going, similarities can easily be drawn when looking at school district bandwidth needs and network traffic. With testing (online) requirements, the integration of technology advancements into teaching methods, bring your own device (BYOD) initiatives, etc. the need for additional bandwidth in schools has skyrocketed. And, unlike my football analogy, peak times at school districts occur on a daily basis, rather than just a few weekends out of the year.
Schools and libraries are certainly aware of this challenge. And to meet it, many of them rely on multiple sources of Internet bandwidth. Our analysis of FY2015 funding request revealed that more than 1 in 4 (26.5%) school districts applied for E-rate discounts from multiple vendors. Since then, we have conducted a nationwide survey of E-rate applicants and learned that 58% of respondents reported using multiple Internet bandwidth providers. It is clear from the data that schools and libraries require multiple vendors and connections in order to meet their Internet bandwidth capacity and reliability standards.
Because they understand their requirements better than anyone, I believe that schools and libraries should be the ones to decide how much bandwidth and how many providers they require to serve their students and library patrons. I think this is a reasonable position to take, especially given the fact that the E-rate program is a discount program and that every service is coming out of a school or library's budget.
Unfortunately, the FCC seems to think otherwise. In fact, judging from their focus on "duplicative services", one might think that the biggest challenge facing America's schools right now is excess Internet capacity. Indeed, it is as if the FCC has launched a virtual attack on excess bandwidth in schools and libraries– and nowhere is the FCC's position more evident than Arkansas.
You can find Arkansas on the map below. It is the state without any school telecommunications or Internet access funding commitments in FY2015.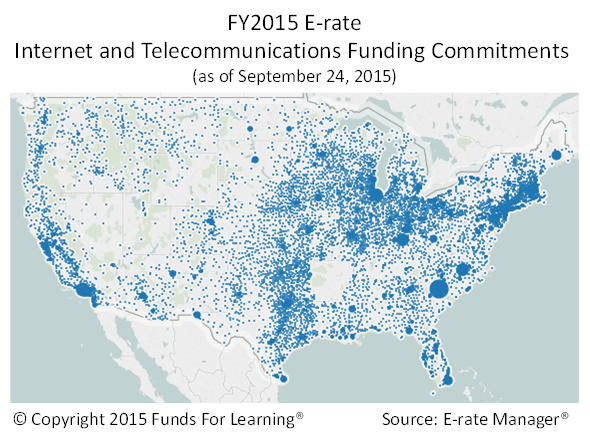 Here it is, September 25, 2015, and the Arkansas school districts are still anxiously awaiting their telecommunications and Internet funding commitments. Schools in the Arctic Circle already have their Internet funding commitments, but not a single school in Arkansas.
Why would the FCC do this? It stems from the fact that the Arkansas state government has graciously offered to bring Internet access to every school in the state. That is wonderful news. But now the FCC wants to make sure that schools in Arkansas don't have more bandwidth than they need or use more than one service provider. Too much bandwidth? Too reliable? Really? Internet capacity is not something that can be stored in a warehouse for use at a later date. Schools in Arkansas understand that they have to be prepared for game day. Just like the stadium I described before, the schools have to be ready for peak periods of demand. It is incumbent upon them to make sure that their students have adequate Internet access at all times.
Today, in Arkansas, despite the FCC's concerns over "duplicative services" and cost-effectiveness, students are connected to the Internet, in many cases using multiple sources of bandwidth. The State and the schools have done their part. They have identified their network requirements, properly bid out their services, and secured the bandwidth to meet the needs of their students. I am grateful that the State and school districts are fighting to keep their students connected. When will the FCC do the same?