This week, I've had the opportunity to be a presenter for a number of E-rate training seminars for applicants. We spend a lot of time talking about the nitty-gritty details of the program: rules, deadlines, forms, compliance requirements, and the like. And let me tell you: it is no small task to try to keep E-rate interesting and engaging for the course of a four hour seminar. But there is one aspect of the presentation where I practically beg, on my knees if I have to, the attendees to pay close attention: to succeed at E-rate, you need a plan.
Here at Funds For Learning, we work with schools of all shapes and sizes – from small private schools to extremely large public school districts with hundreds of sites. It has always intrigued me how different they can all be, especially in the way they approach their business operations and technology initiatives. But the one unifying characteristic I see among the ones who do E-rate well – and the ones, incidentally, who are less stressed out by the process – are the ones who sit down early to sketch out a plan and timeline for completing the various aspects of the application process.
So I have to admit, y'all are starting to worry me a little bit. As of today, there are fewer Forms 470 on file for the next funding year than there have been in the past four years: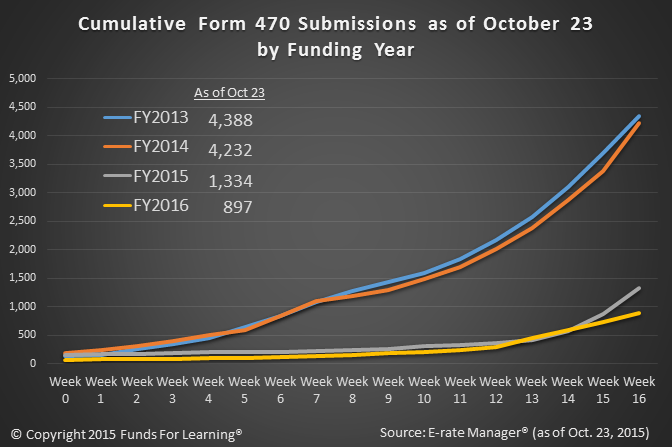 As a matter of fact, this is the lowest number of Forms 470 on file as of 10/23 that we've seen in the history of the program.
I could spend some time speculating as to why this is the case: maybe it's a learning curve with the new
E-rate Productivity Center, maybe schools are taking more time to evaluate their options for procuring fiber WAN services, maybe it's the fact shockingly enough, the end of October is upon us already, and if we had to admit it, we're behind schedule. (I haven't gotten my Halloween candy yet. I'm going to get egged if I don't get on that soon.)
Regardless of the reason, though, if you haven't gotten started on your procurement processes for FY2016 I urge you to start planning now! Funding Year 2015 was the year of rule changes – more than we'd seen at one time since the program began. My prediction is that Funding Year 2016 is going to be the year of process changes. And when things no longer work the way you're accustomed to them working, delays are inevitable.
Case in point: the FCC Form 470. Not only has the Form itself changed significantly, with the introduction of 470 line items, but the system used to prepare and post the Form – EPC – is new for everyone. And giving in to my curmudgeonly tendencies, I worry that there are going to be an awful lot of last-minute filers who are going to be taken by complete surprise by the new Form and process.
So what to do before October ends? Spend some quality time putting together your application filing timeline! Here's an overview of processes to get the ball rolling: start with a target date when you want to file your FCC Form 471 application, then work your way backwards. How long will it take your team to work through all these tasks?
I promise, a well-thought-out strategic plan will significantly reduce your stress level during "E-rate season." That, combined with your Filing Window Survival Kit, is the recipe for success in FY2016.