A Funds For Learning analysis found that more than 1,200 E'Äërate applicants, comprised of nearly 9,000 schools and libraries and representing over 4.5 million students, were impacted by the Hurricanes in FY2017.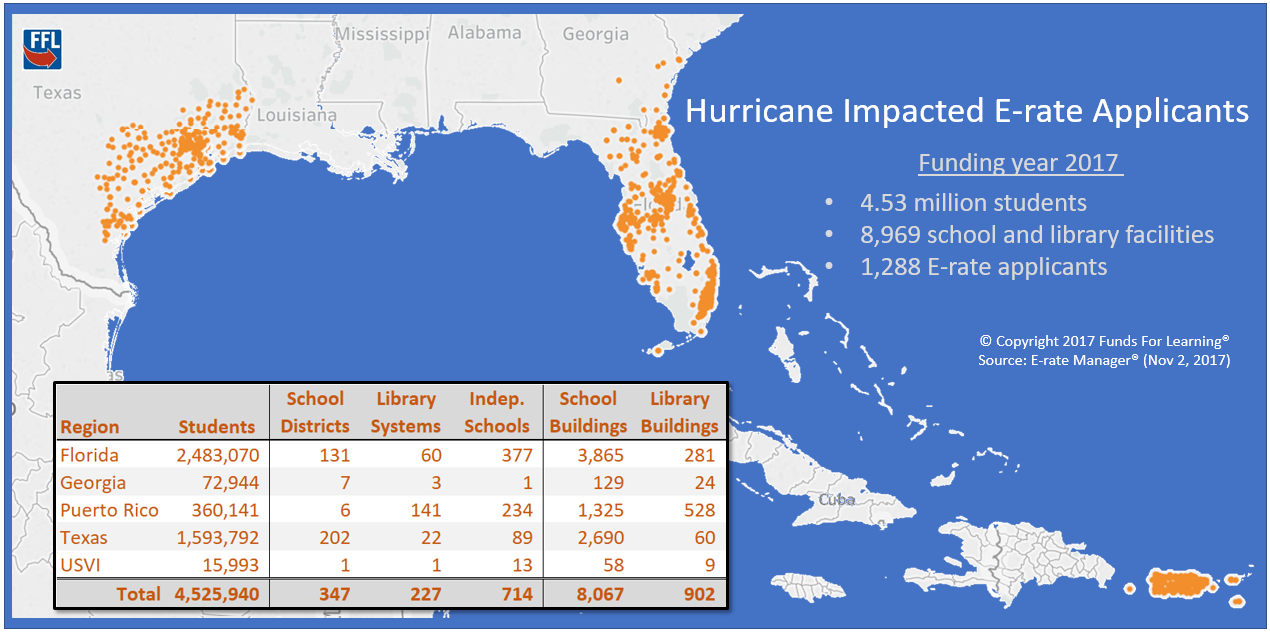 Hurricanes Harvey, Irma, and Maria battered the Caribbean Islands, Gulf Coast and Atlantic seaboard causing 103 deaths and an estimated $200 billion in damages. Many schools and libraries sustained significant damage and forced closures and delays as the areas scrambled to rebuild necessary infrastructures for the impacted communities.
The FCC has released a series of Orders waiving certain E-rate rules and deadlines to assist schools and libraries located in the areas affected by hurricanes, with the most recent released on October 30 that allows applicants in Directly Impacted Areas (schools and libraries located in counties designated by FEMA as eligible for individual disaster assistance) and Indirectly Impacted Areas (schools that are located in Directly Impacted Areas but did not incur substantial damage, or that are located outside of the Directly Impacted Areas, that student counts for FY 2017 has increased by 5 percent or more) the opportunity to apply in the Second FY2017 Application Window. The Order also reset the five-year C2 budgets for all Directly Impacted Applicants.
The Hurricane Relief Order can be found
here
.
More Hurricane related news and commentary: