If you read the "Sept. 1 Review Deadline Approaching"
analysis
, you may have noticed something odd as it relates to funding requests that involve special construction. In case you missed it, here is an annotated version: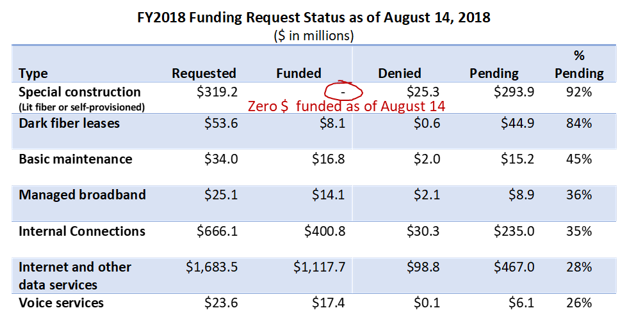 With two weeks remaining before USAC's September 1 deadline to complete application reviews, precisely zero dollars have been awarded for special construction in funding year 2018. To put this in perspective, consider the following: $17.4 million has been awarded this year for voice telephone services. Just think about that. Applicants who applied for the almost-phased-out, only-getting-a-10%-discount, FCC-does-not-want-to-fund-it-any-longer voice services category are faring better than the applicants who decided to deploy their own high-speed broadband networks with hopes of receiving more cost-effective connectivity.
Applicants currently have an opportunity to submit comments to the FCC regarding the 2019 eligible services list. Now is a perfect time to let the FCC know your thoughts on this matter. If, as a practical matter, self-provisioned networks and other special construction projects are not going to be funded, it would be best to just let applicants know. Alternatively, if the FCC does intend to support them, then it is incumbent upon the FCC to clarify the circumstances and criteria necessary in order for these requests to be processed in a fair and timely manner.
Timeline of Notable E-rate "Special Construction" Events
| | |
| --- | --- |
| Dec. 2014 | FCC adopts new rules that will allow applicants to purchase all or part of a wide area network starting in 2016 |
| Sept. 2015 | FCC releases the first eligible services list that allows for the purchase of off-campus networks, a.k.a. special construction |
| Feb. 2017 | Commissioner O'Rielly sends USAC a letter outlining his concerns regarding self-provisioned networks. |
| Jul. 2017 | Analysis finds unusually high denial rate for applications involving special construction |
| Mar. 2018 | Texas Governor Abbott implores USAC not to delay funding 2018 projects citing the deadlines for matching funds. |